Fun & Sport with Bubblesoccer
Bubble Soccer Games with Original BodyZorbs® are a total blast!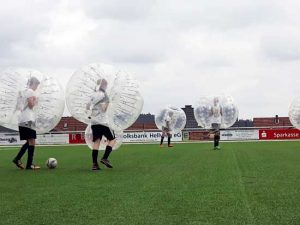 Bubble Soccer has been the coolest Zorbing sport for quite some time. Soccer Zorbs, Bumper Balls, Bubble Footballs, or Loopy Balls – whatever you call it – it is always soccer in a very special way. The fun sports game for all fit youngsters and young at heart!
The premium balls from ZORB Europe ensure unadulterated fun in the game – so you can bump happily and do not have to spend most of your time with repairs on the sidelines. Coaches value Bubble Soccer for team-building exercises. Whether it's a highlight after a exhausting pre-season preparation, a celebratory team event after a successful season, or as a fun group activity that brings the whole club together – Body Zorbing guarantees laughter and joy! Why not organize a tournament and invite along other teams? See how Bubble Soccer acts as a sporty and social connection between clubs. Attention! Bubble Football can be addictive! Many of our clients have turned their once-off tournaments into a recurring traditional event. We support you in all stages of planning and preparation. Just ask us – we are always there for you!
Visit our offer page for more information on Bubble Soccer and the BodyZorbs® product specifications: Bubble Soccer.
For further questions please give us a call (+49 (0) 911 444 525), or email us ).